Prati Stabile d'epoca sul Tevere mq. 2200 con terrazze mq. 380
Lungotevere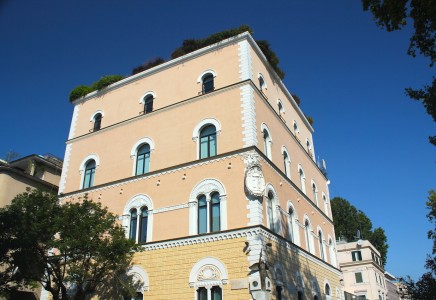 Trattative Riservate
Mq: 2000
Posti Auto: 3
Piano: intero stabile
Zona: Prati flaminio
Prati, nel cuore del prestigioso rione, sulle sponde del Tevere, siamo lieti di promuovere la vendita di un intero stabile d'epoca di circa mq. 2.200, elegantissimo, incastonato in una delle zone più rinomate della città per la sua eleganza edilizia e la presenza di numerose attività commerciali, legali, amministrative e cuore della finanza capitolina. Il palazzo è stato edificato nel 1904 da Edgardo Negri, all'interno è rifinito con dettagli di alto pregio, e si possono ammirare affreschi del pittore romano Silvio Galimberti. Dotato inoltre di terrazze panoramiche di mq. 380 ca. che offrono una suggestiva, nonchè rara e magnifica vista a 360° su tutta la Capitale. Lo stabile è blindato e dotato inoltre di un servizio di video sorveglianza esterna e interna. posti auto e moto. posizione estremamente tranquilla e silenziosa.
Lawns, in the heart of the prestigious district, on the banks of the Tiber, we are pleased to promote the sale of an entire old building of about one square meter. 2.200, elegant, embedded in one of the most renowned areas of the city for its building elegance and the presence of numerous business, legal, administrative and heart of capitol finance. The palace was built in 1904 by Edgardo Negri, inside it is finished with details of high quality, and you can admire frescoes by the Roman painter Silvio Galimberti. Also equipped with panoramic terraces of mq. 380 ca. which offer a charming, as well as rare and magnificent 360 ° view over the entire Capital. The building is armored and also has an external and internal video surveillance service. cars and motorbikes. extremely quiet and quiet location.
Lungotevere
Prati Stabile d'epoca sul Tevere mq. 2200 con terrazze mq. 380
Contattaci per un appuntamento
Chiama il numero (+39) 335.62.46.000 oppure compila il form qui in basso, un nostro agente ti risponderà al più presto per fissare un appuntamento in loco.